AntonVideo – Pantyhose Bondage 4
AntonVideo – Pantyhose Bondage 4


An excellent title for fans of women in danger, humiliation, tight bondage and, of course, sheer pantyhose.
Sexy office worker Sinn walks into a nightmare when she is grabbed by sadistic criminal Steve in the basement of her office building. Steve holds his hand over the terrified secretaries mouth and calmly explains the situation. He is robbing the safe and Sinn and her coworker Anastasia will be spending the weekend bound and gagged. Sinn is taken to a storage room where she is horrified to see Anastasia fully bound with rope and gagged with duct tape. Sinn meekly cooperates and is also securely bound and gagged. Left alone, the girls squirm on the floor in their sexy skirt outfits with sheer pantyhose and heels. The heels come off, giving you some great views of their nyloned feet. Anastasia hops over to some scissors and, with considerable effort, the girls free themselves. They do not get to enjoy their freedom for long. Steve grabs them again. The terrified victims are forced to strip down to just their sheer pantyhose. Steve ties and gags them with duct tape and packs them like sardines into a cardboard box, where he leaves them to wonder if they will ever be found…
Hot blonde secretary Jennis only mistake was doing her job too well… While reviewing some financial records, she notices that her boss has been embezzling funds . The boss, Steve holds Jenni at gunpoint and ties her up. He stuffs a cloth in her mouth and completely wraps her mouth and eyes with elastic bandage. He leaves her there for a bit to moan and struggle in her sheer black nylons and office attire. As she rolls around, her shoes come off and her skirt hikes up, exposing her tasty feet and shapely ass. Steve comes back and horrifies Jenni by groping her tits. Later, Steve forces Jenni down to the basement and ties her to a post. He strips off her skirt and blouse, leaving her vulnerable and humiliated in just her nylons. Jenni is moved to a cruel position–on her knees on the floor, still bound to the post. Steve adds a final indignity by fondling Jennis luscious tits before leaving her there. Jenni is an awesome actress and she plays the innocent victim perfectly.
Sexy Jenni comes home from work, strips nude, puts on a pink nightie and takes a nap on the couch. Intruder Steve breaks in and wakes Jenni up. He forces her to strip naked and place both her legs in a nylon stocking. Then he forces her to stuff her own dirty pantyhose in her mouth, gag herself with another stocking and put yet another stocking over her head! Once she is gagged, Steve uses the rest of her pantyhose to tie her up, then starts groping her fantastic tits and caressing her defenseless body. Later, he looks around the house for stuff to steal. Jenni is left in the living room to suffer and whimper for a while. When Steve returns, he decides to retie Jenni. With her arms and legs still sleeved in nylon, Jenni is securely bound with roped and tightly gagged with a pair of pantyhose tied in her mouth. Jenni rolls around on the floor but her bondage is inescapable.
Foxy brunette Anastasia stars in this bondage vignette. She looks incredible in just her black sheer pantyhose. She is hogtied on the floor and gagged with a shiny strap tightly tied over her mouth. She rolls around and moans in torment, her amazing body exposed and vulnerable. When Jack arrives, Anastasia thinks she will be rescued. Instead, Jack adds some super-tight elbow ropes.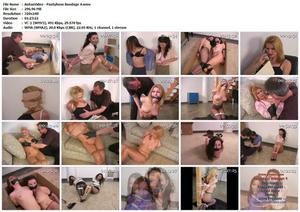 Download AntonVideo – Pantyhose Bondage 4